Six Bodacious women tear up the stage in a celebration of Blues and Blueswomen. 
"Firing up audiences…a stageful of powerful Blueswomen!"  San Francisco Chronicle
Blues is a Woman debuted as a theatrical concert in 2017, winning Best Musical Direction by Bay Area Theater Critics Circle, and selling out an entire month of performances. 
Now - we continue to present our work in theaters, concert stages and schools all over the country. 
Our Story:
For two years following her successful national touring show, Wild Women of Song: Great Gal Composers of the Jazz Era, Bay Area singer-songwriter Pamela Rose worked closely with five exceptional blues musicians to develop a new multimedia project that tells the remarkable story of women and the blues.
Creative Direction by Jayne Wenger.

Rose's BLUES IS A WOMAN blurs the boundaries between concert and theater, using storytelling, rare film footage, and music to bring to life the colorful history of the bold and singular women who wrote and popularized the blues. Some of the names are well known – Nina Simone, Aretha Franklin, Janis Joplin – and others should be – Ma Rainey, Ida Cox, Memphis Minnie, and so many more. The voices of these women are vibrant, challenging, inspirational, and dynamic, and BLUES IS A WOMAN seeks to ensure that these women, their histories, and their message will be remembered and celebrated.
 
"A mix of performance and history, with a crackerjack
all-woman band, making the case that
women powered the development of the blues
from Alberta Hunter to Janis Joplin."  
- Cy Musiker, KQED's The Do List
A full theatrical presentation of BLUES IS A WOMAN  premiered in August 2017 with a month long run at the Custom Made Theatre in San Francisco. Following that engagement, the show  hit the road, sharing its compelling narrative of the essential role women played in the development and performance of this quintessential American musical form with many different audiences.
All of the ensemble members are highly-regarded Bay Area musicians: Tammy Hall (piano), Jennifer Jolly (piano) Ruth Davies (bass), Kristen Strom (saxophone), Daria Johnson (drums) and Pat Wilder (guitar). The Creative Director is Jayne Wenger.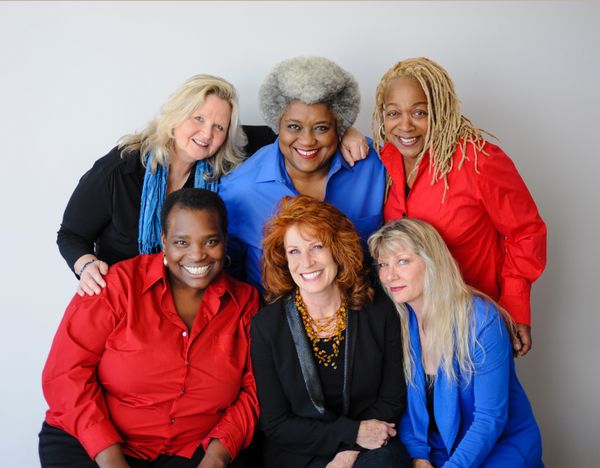 Back Row: Kristen Strom, Tammy Hall, Pat Wilder
Front Row: Daria Johnson, Pamela Rose, Ruth Davies
  Photo credit: Jennifer Paschal, Bruce Forrester Photography